Spicher and Company's Vintage Vinyl Floorcloths are extremely popular as they are easy to clean. Spills and messes simply wipe away with a wet cloth. With everyday household use, an occasional general light cleaning will suffice. However, for very high foot traffic areas such as in a business like Pura Vida, a deep cleaning might be necessary. (Because the vinyl has a non-slip surface, it has a textured surface where dirt can accumulate.) Occasionally customers ask me how to deep clean the vinyl. So I hope this helps. This is what I have found to work the best and easiest. Please keep in mind, the cloth I am cleaning has a white background and is at the front entry of the store. I have not cleaned it since it arrived about 2 years ago. So a deep cleaning is due! This size 52x76 took me about 30 minutes to clean. Again, for most household use, your cloth will not get this dirty. *I strongly suggest testing it on a a very small spot on your cloth before diving into doing the whole cloth.
I recommend this method for only extremely dirty cloths. There is a chance Dawn may lighten the colors slightly. I would only use this method once or twice at most. Otherwise a general cleaner like 409, Fantastic or Swifer Wetjet will suffice for frequent cleaning.
What you will need:
A bucket with clean water
Dawn Powerwash detergent
A soft bush (I used a Scotch Bright hand and nail brush.) DO NOT use a brush with hard bristles.
A roll of paper towels (and/or a sponge wrapped in terrycloth)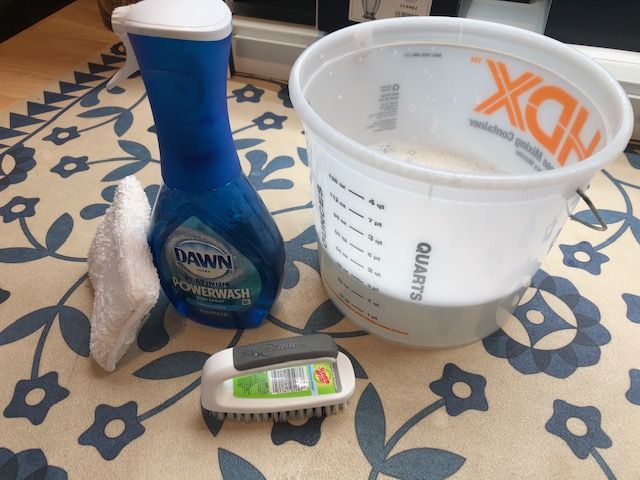 It's best to clean the vinyl in small sections.
Spray a very light layer of Dawn Powerwash. Spread it evenly using the soft brush. Do not apply pressure to the brush.
Let it set for about 5 minutes.
Use the brush to work up the dirt, using very light pressure. DO NOT SCRUB HARD.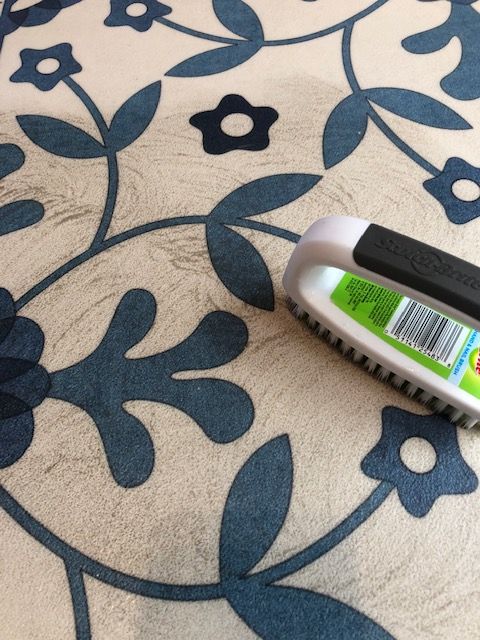 Wipe with a DRY paper towel to absorb the dirt. (You may need to wet the brush and repeat the process.)
Wipe with clean wet towel or sponge. Repeat as necessary until all soap residue and dirt is removed.
The result before and after, left side cleaned, right side not.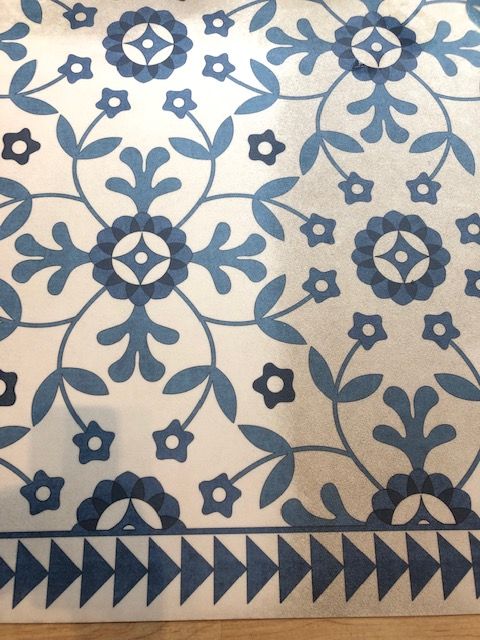 Cleaned section compared to not cleaned section.